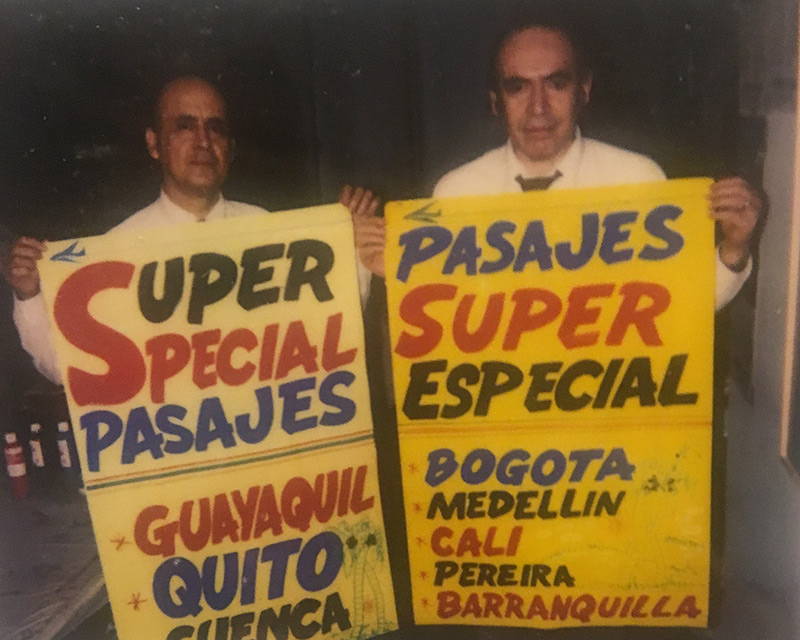 Victor and Carlos in Queens circa mid 80's.
Artist Series: The Cevallos Brothers
New York City's elevated 7 train is the lifeline to the residents of Western Queens and Mets fans across the globe. But, the train also acts as a shelter to the Roosevelt Avenue corridor, the area's main commercial vein that connects some of the most vibrant and diverse neighborhoods in the city. Along this strip is a wide mix of street vendors, supermarkets, bars, 99 cent stores, and restaurants from all of Asia and Latin America. And in the windows of these restaurants and bars are where you find the colorful, humorous, and singular posters of the Cevallos Brothers.
Victor, Carlos, and Miguel Cevallos have been creating signs for the small businesses of New York City for over 40 years.
Born in Otavalo, Ecuador and raised in Bogota, Colombia. When they came of age in the early 1960's the three brothers traveled extensively throughout Central America. The oldest, Victor, would earn money by drawing caricatures of guests in high end hotel lobbies encouraging the young artist to dream bigger.
Left: Pacquiao v Marquez poster. Right: Carlos and Victor with a Times Square photo backdrop.
When the three brothers returned to Bogota in 1967 they teamed up to open their own sign shop. It was here that they developed their singular style, blending caricatures with a range of lettering styles and colors. Three years later Victor moved to New York City and began hustling up his own jobs, painting menus with Greek motifs for diners and moving on to pizza shops and other eateries prevalent in Times Square during the 1970s.
Around 1979, with Carlos now in New York, the two brothers expanded into Queens. Colombian nightclubs and bars called on them to come and paint their walls and advertise their happy hours. Travel agencies, money exchanges, and seedy bars also ballooned along Roosevelt Avenue (many of them laundering money for the Colombian drug cartels) opening up the demand for signs to advertise their services.
Posters from Corona, Queens storefronts.
In 1982, they had a huge windfall, securing a 10-room suite in Times Square, where they worked for 17 years until 1999. Their proximity to Times Square opened up a world of opportunity for sign making. The brothers were hired to paint backdrops for souvenir photos sold to tourists while pizza shops and hot dog stands needed signs to advertise their prices. The work kept coming in.
When the owner of their Times Square space sold the building in1999, the bulk of the brothers' business shifted to Queens. In 2003, Miguel reunited with his older brothers and the three combined their talents once more. Together they would paint striking murals in Mexican restaurants and decorating taco trucks and food carts for street vendors up and down Roosevelt Avenue and Junction Boulevard. Sadly, Victor would pass away in 2012.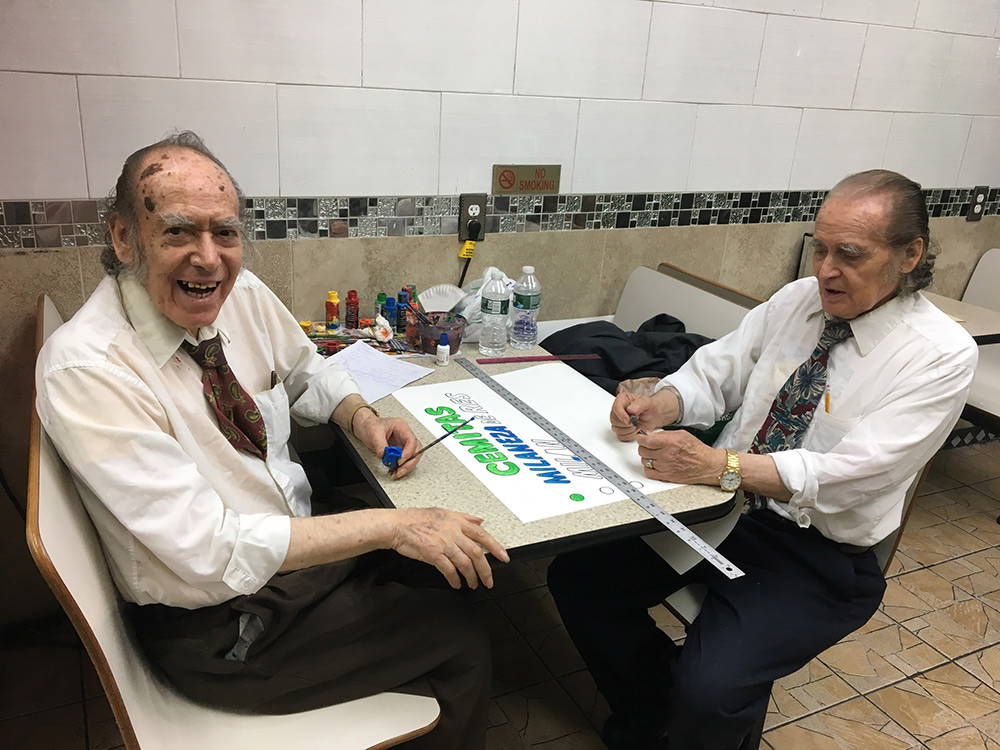 Today Carlos and Miguel continue to paint and make posters well into their eighties. Their entire life has been dedicated to their craft. Before the pandemic they had a nightly routine of visiting their clients along Roosevelt Avenue from Woodside to Corona. This area had some of the highest rates of infection during the peak of the pandemic in New York City. Every business they work with would close, many would not return. Every other day from mid March through April they would hear of how a bar manager, owner, or waitress they knew had succumbed to the virus. A lot of focus has been placed on the survival of small businesses and restaurants but operations like the one that Carlos and Miguel run are a little too undercover to gain attention. Today their Instagram account has become a lifeline where new jobs are taken in and their story is documented and shared with an entirely new generation.
The Cevallos Brothers Artist Series T-Shirt
We recently worked with the Cevallos Brothers on a limited edition artist series t-shirt that's available online in-store.
Made in USA, Printed in NYC.